As it turns out John Landis had an idea for the An American Werewolf in London sequel that unfortunately never happened.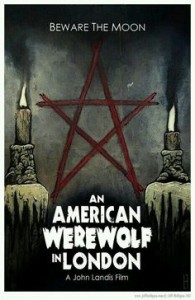 Landis explains his idea in an excerpt from a new book by Paul Davis entitled Beware The Moon: The Story of An American Werewolf In London:
"The movie was about the girl that the boys talk about at the beginning of the movie, Debbie Klein. She gets a job in London as a literary agent and while she's there, starts privately investigating the circumstances surrounding the deaths of Jack and David. The conceit was that during the time in the first film where Jenny (Agutter) goes to work and David is pacing around the apartment, he actually wrote Debbie Klein a letter. It was all to do with this big secret that David had never told Jack that he had a thing with her. She went back to the Slaughtered Lamb and everyone is still there! I think the only changes were a portrait of Charles and Diana where the five-pointed star used to be and darts arcade game instead of a board. It's then when she speaks to Sgt McManus, the cop from the first movie who didn't die, that she finds out that Jenny is still in London. She calls her and leaves an answer phone message, which we then reveal is being listened to by the skeletal corpses of Jack and David, watching TV in Alex's apartment! The big surprise at the end was that Alex was the werewolf. It was pretty wild. The script had everybody in it from the first movie, including all the dead people!"
Off the top of my head I am wondering how this would work. Consider that the werewolf infecting Jack and David had been killed on the moors and thus could not have been Alex. For that matter, why was Jack in limbo again? After all, the werewolf that killed him was dead? David didn't kill him, it shouldn't have mattered that David was still alive except for the people he killed.
Anyone else with me on this? Or am I missing something that explains like a pretty glaring plot hole in the original movie (a movie which I love by the way – so don't crucify me about this) regardless of what it would mean for a sequel?
Anyway, obviously Landis' idea was never fleshed out. The upshot being that we got the mediocre American Werewolf in Paris CGI cartoon fest for our sequel – ugghhh!
Of course, I would love to see you read my work. But if you aren't reading my werewolf book then have at this one! Anything about one of the best ever werewolf movies always looks pretty good to me!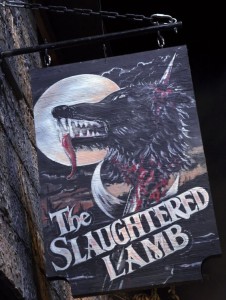 Follow Up: So far I've already received a ton of feedback. The best answer to the bloodline questions above went like this: "The bloodline wasn't severed with the death of the werewolf on the moors, it was passed on to David. Think of the bloodline as children; if a person is infected, then they become children of this lycanthropic family tree. Killing one werewolf wasn't enough, eradicating every member of this "tree" was the only true way to lift the curse of the undead. It's the only way to explain why Jack was still around even though the werewolf that killed him was dead itself."