I have previously discussed just how good the early '80s were in terms of horror films. In addition, I have discussed why the best horror film of all-time was a pioneer in terms of effectively blending the horror/adventure genres. Let's build upon those discussions and look at several 1980s films that successfully brought together three of my favorite genres: horror, science-fiction, and action.
The year 1984 produced a bevy of entertaining films that rank it as one of the great years in movie-making history.  No list of 1984's best would be complete without The Terminator.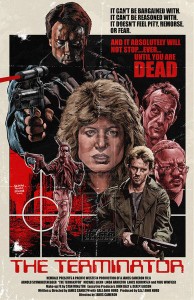 We all know the plot and particulars of The Terminator. What really made the movie resonate was the way in which a classic science fiction trope of time travel was layered onto an early '80s slasher style unstoppable villain. From there, the film's centerpiece was arguably not the final confrontation between the Terminator and Sarah Connor, a good action sequence in and of itself. Instead, the Terminator's mid-film assault on the police station harboring Sarah Connor has since become one of the iconic 80's action sequences. This in a film filled with above average action scenes that include the gunfight at the disco Tech Noir and a car chase featuring a dueling shotgun battle. James Cameron wrote and directed Terminator and perhaps it is no surprise that he also crafted Aliens.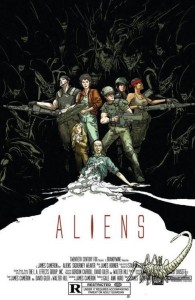 Released in 1986, Aliens accomplishes the tricky feat of being a sequel that is ranked by many the near equal of its predecessor.  1979's Alien was a horror movie grounded in science fiction. However, Aliens can best be described as an action movie with strong horror and science fiction elements. Though the action and violence are stunningly done it is in the in-between or "down time" scenes where Aliens really shows it's teeth, leaving the viewer with an almost constant feeling of dread. Put simply, there is an unrelenting intensity to Aliens that few movies can achieve.
If heavy action is a central element of Aliens it's taken one step further in our third and final movie in this list: 1987's Predator.
Is the testosterone too high at times?  Sure. Can the dialogue be somewhat stilted or even schlocky? Of course. Nevertheless, what is perhaps the quintessential Schwarzenegger film is still fun and entertaining nearly thirty years later. So much so it is almost impossible to pull your eyes away given the film's rapid pace, solid special effects, and the way the viewer is immersed in the jungle where the action takes place.  This last point is important. Director John McTiernan does a wonderful job of using the jungle as a secondary monster to the titular Predator stalking his prey.
I have staked my upcoming novel Apex Predator (to be published early next month) on the concept that blending genres is a great way to produce an entertaining experience for readers or viewers alike. Few decades can match the 1980s in terms of producing multiple films that stand the test of time and combine horror, science-fiction, and action so well. This list could have easily been expanded if for no other reason than 1982's The Thing. Nevertheless, I'll leave that one for another day. In the meantime, can anyone guess the only two actors to have played characters killed by the Terminator, Alien, and Predator?