Two illustrations. Two werewolves. Two people. In the first, the Polish artist Jakub Rozalski (aka "Mr. Werewolf") showcases a new work titled "hunt or be hunted" (from his Wolfpack 1863 series).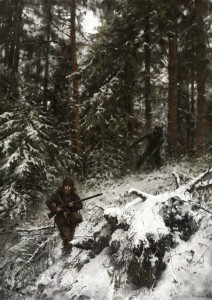 Since I discovered Jakub early this year I've been a huge fan. Perhaps not surprising considering my werewolf book Apex Predator (published last year) features a winter werewolf hunt of it's own – one that similarly leads one to wonder who is hunting whom.  A question that leads one to also re-examine the werewolf's role in defining who we are as people. A thought that leads to our second image.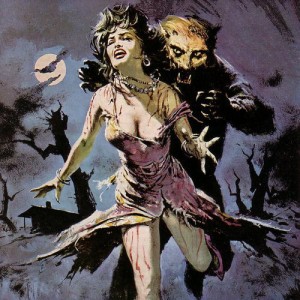 I get a kick out of these old pulp magazine/book illustrations featuring a werewolf invariably chasing a scantily clad woman. Don't get me wrong – I get it. Perhaps one of the signature concepts behind that of the werewolf is as a representation of man's untamed, shall I say, err "impulses".
However, werewolves are meant to be more than that – they are what is wild and untamed in ALL of us.  One of the things I really enjoyed about creating the werewolves in my novel Apex Predator came from flipping stereotypical images such as these upon their head – presenting both females and males at various times losing control to the beast within. This goes back to the thought I would like all my readers to ponder. Do we love werewolves because of what they say about our worst fears regarding our darkest impulses? Or do we like werewolves because they are representative of the reality that is the human animal?