I'm still working my way through this year's edition of shark week. Other than the Phelps fiasco (why must you start each season of Shark Week with such schlock, Discovery Channel), most of the episodes are quite good. I loved the early attention given to the Great Hammerhead, Mako, and Porbeagle Sharks. As I have commented before, recent seasons of Shark Week overall have been trending toward educational over sensationalism. That's good – keep it up.
From there, and with sharks on the brain, I had no problem saying 'yes' when one of my friends asked me if I wanted to see Jaws at the local small-town theater. Of course I loved it (my all time favorite movie) but I also loved the experience. This fifty-plus-year old theater not only put actual butter on the popcorn but the ticket cost only three bucks – you can't beat that! It was heartening to see quite a few teenagers and millennials in the packed theater. It's great to know there's a new generation of fans. Needless to say, Jaws was a huge influence on my life and my writing (with a certain police chief providing much of the inspiration for one of the leading characters from my werewolf book Apex Predator).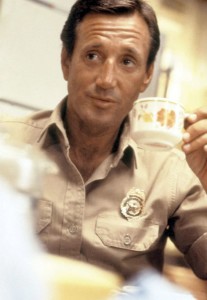 What's amazing is that even though I've seen the movie probably a hundred times on TV – it makes such a huge difference seeing it on the big screen. For instance, I just noticed that it was Old Spice Brody was dabbing on his handkerchief when he was chumming off the stern of the Orca. Or that Charlie's ferry charges extra if you use it between 7pm and midnight – according to the sign in the background you can't really read on TV and as seen in the film (when Brody is asking Charlie to take him over to the boy scouts and get them out of the water).
What a great movie. What a great experience. And yes, I saw Dunkirk at the IMAX big chain theater the week before (a solid effort with almost no CGI, real WWII aircraft and equipment, and some fantastic dog-fights between Spitfires and Me-109s). However, just like I support local used and new bookstores I also try and support the small town theaters that add so much to a community. I'm sure there's quite a few of you who would agree.
BTW – if there's anything in Jaws that didn't catch your eye until recently please let me know. Otherwise, enjoy the behind the scenes movie pics I included with this post (and if you have any good one's then please share).