One of the things I love about being a horror author is getting to interact on social media with fans, friends, and peers. In particular, I have more great discussions about all things werewolf there than I have since I was in junior high – debating with my friends whether a werewolf could beat The Terminator or an Alien, and other such fun topics.
A few weeks back I put up on Facebook a post I did several years ago when I initially started my Random Pop Culture blog (that has since been absorbed here into my author website). The post is about the best werewolf transformation scenes of all time.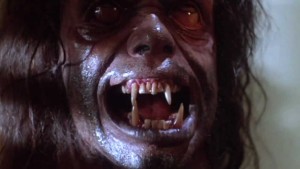 That generated quite a bit of discussion, including yesterday from one commentator who made the point that "Transformation shouldn't be THAT painful and slow, they should just morph into a werewolf without all the drama that would bring too much attention to the transformation."
This is a valid point, and I do not at all want to be dismissive of the commentator's viewpoint. However, I believe it is wrong. The following explains why.
To start, check out my original post, where I have embedded the transformation scenes engineered by Rob Bottin for The Howling and Rick Baker for American Werewolf in London. If not interested in the AWIL transformation scene then read on for The Howling's. That post was part of a series I had done exploring why The Howling (the original 1981 movie) proved such a great addition to the werewolf genre.
One of those big reasons for The Howling's success as a genre altering film came from it's treatment of the transformation scene:
Before The Howling the classic werewolf movies tended to show the transformation scene as something upsetting to the shape shifting human, but not incredibly uncomfortable. To wit, check out the transformation scenes in two all-time werewolf classics (1941's The Wolfman and 1943's Frankenstein Meets The Wolfman – ground-breaking in their own right and for their time) that established what would become the key element (dare I say "money shot") of any werewolf film:
Now, let's return to the comment regarding why it is the transformation scenes have to be that painful. The answer is simple and two part.
First, for the transformation scenes to not jar the viewer from the state of suspended disbelief that allows them to enjoy the movie (or for that matter the reader with a book) – the scene must seem real. What I mean is this; take Mr. Eddie Quist of The Howling. He might have been all of 5'10" and maybe 165 pounds. Yet, in a few minutes he alters into a seven plus foot tall several hundred pound werewolf.
Those breaking and reforming bones, dramatically stretching muscles, skin, claws popping through fingertips, and other such changes aren't just painful – they would be excruciating. For comparative purposes look at the pain a woman goes through pushing a baby down her birth canal. This is a process orders of magnitude less transformative in reshaping the relevant body parts, but involves hours of pain the likes of which most men can't imagine. For my male readers who would like to imagine – envision trying to crap out a bowling ball and think of what that would do to your ass. For weeks afterward you wouldn't even be able to pass gas without having to change your shorts.
Second, by portraying the transformation into a werewolf in such wrenching physical terms the author or director is explicitly linking that change to the werewolf's enormous hunger that must be sated – and now! This is a key component in establishing why it is the werewolf is such a ravenous monster. This thus makes the werewolf movie more believable, and thus fun. Imagine how hungry you are after running a 10k or lifting serious weights for an hour or so. If you think that stokes your metabolism, honey I've got news for you – it ain't nothing like what a werewolf goes through. Most serious artists in the genre agree. I will leave you with the last big-budget Hollywood werewolf movie and it's transformation scene. The Wolfman remake from a few year's back:
Though I am not particularly fond of remakes, or "reboots" in today's vernacular, note how different this transformation scene is from the original Wolfman – not just technically but emotionally.
I hope I've answered my questioner who stated his belief that transformation scenes shouldn't be so painful. To be fair his original comment added the qualifier "so" – and perhaps there we can find a common ground. Does it need to take three minutes? Maybe not. Should it take longer than thirty seconds? Hell yes. Nevertheless, I obviously tend to agree with the Rob Bottin, Rick Baker school of transformation scenes – as can be attested by readers of my new novel Apex Predator.