Last month we discussed the topic of "nature-horror" and as part of that discussion the movie Jaws came up. Given we are fast approaching the forty year anniversary of the film's release (June 20, 1975) let's revisit one big reason why it was able to become a massive blockbuster, unlike Grizzly, Orca, Piranha, and so on….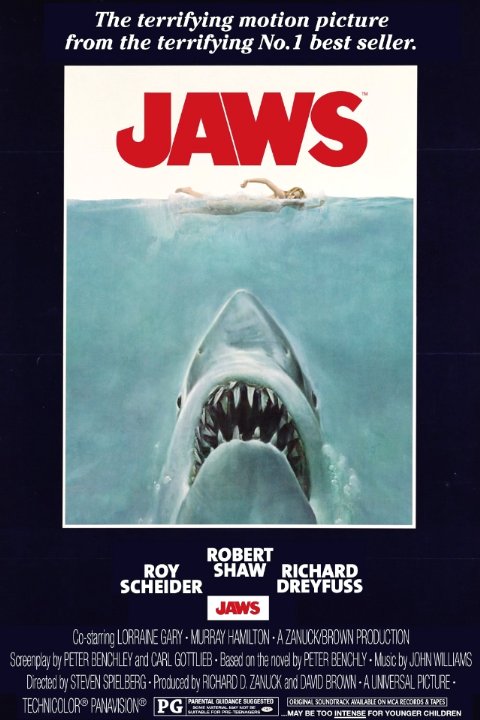 First off, remember that Jaws is widely regarded as one of the best horror films ever, with the opening scene rated by Bravo as the scariest moment in film history.
People were so terrified by Jaws many spoke of being afraid to even take baths. Now some of this is hyperbole, but as a kid I more than once found myself peeking under the water in fear when in a swimming pool or lake, no less the ocean. That didn't stop me from watching the movie over and over again. To this day it is my all-time favorite, and a huge influence on my life – including a primary reason behind my twenty plus years as a scuba diver.
When people discuss why Jaws became such a cultural phenomenon they often point to the strong cast, John William's great score, the superb editing done by Verna Fields, the decision to leave the shark unseen for most of the movie (though this can backfire as anybody who has seen the latest Godzilla film will attest), and other such elements. But I believe there is another reason Jaws achieved the cross-over appeal most other horror flicks can only dream about; and that's because Jaws was more than a horror movie.
Now, many of my readers will blanch at such a statement. After all what is more quintessentially horror than a giant man-eating shark laying siege to an entire town? But careful viewers of Jaws will note that it's really two movies. The first half is an unquestionable scare fest featuring numerous gruesome deaths capped by the bloody shark attack in the estuary. The second half is more of a man versus nature adventure film. Don't get me wrong the final act is also filled with classic horror techniques, including many "gotcha" moments to make the audience jump – plus Quint's ghastly death. But that's also why the film works so well where others fail.
In combining the genres of horror, adventure, and even comedic aspects Jaws connects with the viewer in ways standard horror movies struggle to emulate. The strong character development, intense pacing, and story don't hurt either. But without blending genres as he did I seriously doubt Steven Spielberg and the immensely creative team of actors, screenwriters, editors, and so on working with him would have been able to so viscerally tap into our most primal fears. And before you say "well if mashing together different genres is the ticket to the big-time then why doesn't everybody do it" note that doing it in a way that works is far from an easy task. One need look no further than Peter Benchley's novel of the same name.
Sure Jaws the book was a best seller that achieved tremendous success, but when measured against the movie version it is one of the few books that comes out the loser in such comparisons. For instance, and for whatever reason (perhaps to piggyback on the Godfather's coattails) Benchley included a mafia related sub-plot that simply did not work with the horror/adventure genre's he tied together and Spielberg's team improved upon. That's why come June 20th I will plop down on my couch, dim the lights low, and not crack open my early edition hard cover copy of Jaws. Instead, and for the hundredth time, I will pop into my Blue-Ray player this all-time classic. And I will love every minute of it.